---
Mount Ouray, Colorado - Elevation 13,971 Feet
Photo Gallery and Hike / Trail Information For Now Until I Climb It
Mount Ouray (Elevation 13,971 Feet)

Mt. Ouray stands prominently on the southern end of Colorado's Sawatch Range. It easily recognized from many parts of Chaffee County, including Poncha Springs and Salida. As it is with many Colorado 13ers, Mt. Ouray does not receive a large amount climbing traffic, but it does receive some.

Now, I have not climbed this peak as of yet, but it is on my list. Like the Buffalo Peaks, I have created this page as motivation to gain the summit. Below are photos and trail information for the time being.
Hiking Information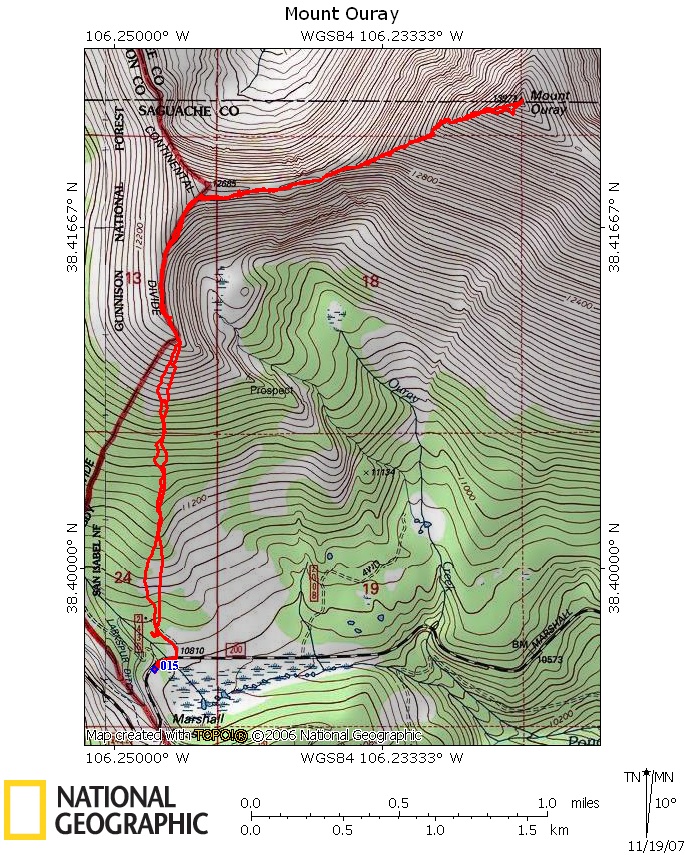 This image is owned by my friend Josh, who climbed Mt. Ouray many years ago. You can read about his hike report here: www.hikingintherockies.com/fourteeners/ouray/mount_ouray.htm.

The most common route to the summit is from the southwest. Hikers park at or near Marshall Pass, and then head north on the Continental Divide. Above timberline, Mt. Ouray's western ridge is the route to the summit. There is no trail; it is a straight-up walk up the ridge.
Click any image to view it at a larger size. A new window will open.


Photos

A photo from Josh's Hiking In The Rockies climb. They were near the junction of Mt. Ouray's western ridge and the Continental Divide with a great view of the mountain.
Mt. Ouray's enormity can be viewed from U.S. Highway 285 between Poncha Springs and Poncha Pass. I snapped this photo during the height of Colorado's fall colors season in 2003.

Two photos from southern Chaffee County.

TOP: The view of Mt. Ouray and Chipeta Mountain (elev. 12,776') from the top of "S" Mountain in Salida.
BOTTOM: A view from north of Salida on a snowy day.

Closer to the mountain. This photo was taken from Marshall Pass Road. (You can see the road, an old railroad grade, on the right.)
By the way, Mt. Ouray should not be confused with the town of Ouray in the San Juan Mountains of southwest Colorado.

Adjacent Photo: The view of Mt. Ouray from Marshall Pass.

Gazing out at Mt. Ouray from Sugarloaf Mountain. The town of Nathrop is in the immediate foreground.
Home | Buena Vista | Lake County | San Luis Valley | 14ers | Videos | Donate | ColoradoGuy.com Facebook Page | Steve on Twitter | About This Site
Copyright © www.ColoradoGuy.com - All rights reserved