Corona Arch Trail in Moab, Utah
Corona Arch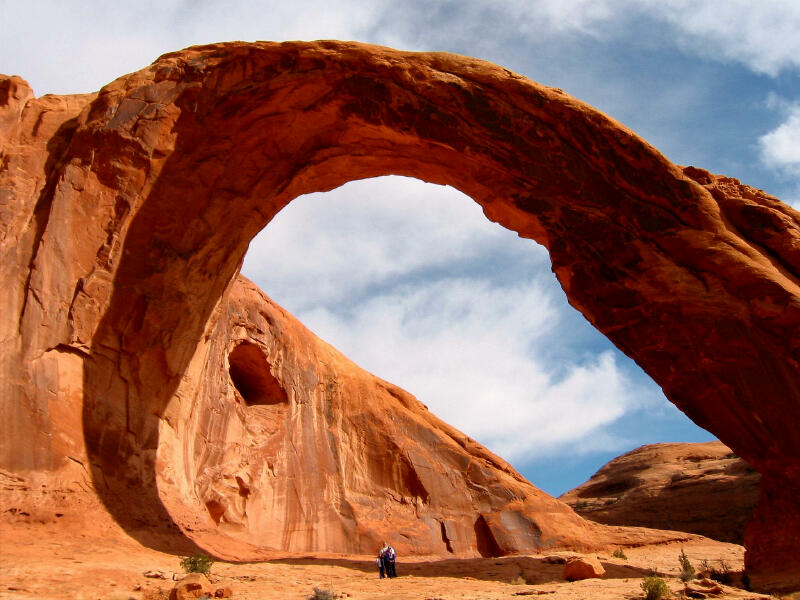 The photo above is mine. My digital camera died at the trailhead and I want to provide a crisp photo that shows how spectacular and large Corona Arch is. Corona Arch and Bowtie Arch are located outside of Arches National Park, as countless arches have been formed throughout the canyon country of southeast Utah.
This photo is linked directly from http://www.climb-utah.com/Moab/corona.htm, which provides good information and photos of the relatively easy 1.5 hike (one way) hike to Corona Arch and Bowtie Arch.
One of the few photos taken with my digital camera from my 2010 hike.
Directions: From Moab, travel north and out of town on Highway 191. Turn left (west) on Potash Road (Highway 279) and travel approximately ten miles. You'll travel in a scenic canyon along the Colorado River and the trailhead is on your right as seen in the photo above.
My Hike To Corona and Bowtie Arch

With my camera not working, I had no other choice but to use my cell phone to take pictures. For now, these photos will suffice but rest assured, I will be back to capture much better pictures of the wonderful red rock scenery!

Adjacent Photo: The view from the railroad tracks looking toward the Gold Bar Campground, the Colorado River and Potash Road.

The trail travels on the edge of Bootlegger Canyon on a clearly marked trail.

On the left, as one hikes in, a few arches-in-the-making exist.

The view of Bowtie Arch and Corona Arch.
One photo of myself. The trail was snowy with some patches of ice. At the point where I snapped this picture, a metal safety cable exists next to pegged-in steps for hikers to continue to the base of Corona Arch. However, those steps were filled with ice and I didn't feel safe continuing. No worries, I had the two arches all to myself which was special, and I will be back another time with a new camera.
Home - Colorado 13ers and 12ers - 4-Wheel Drive - Non-Colorado - About This Site

Copyright © www.coloradoguy.com - All rights reserved