+ Other Stuff +
Buffalo Peaks
Cottonwood Pass
Garden of the Gods
Piece of Garbage
Latest News Articles
Fantasy Football Shirt

Steve has been wearing his fantasy football shirt everyday at work, to the surprise and consternation of his co-workers. "Has that shirt been washed?" asked ... Read More


Aggravation Losing Streak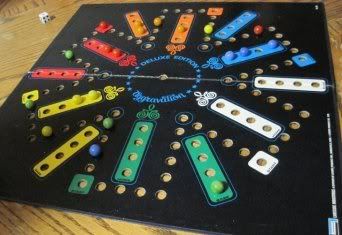 Steve has lost 28 times in a row in this popular board game. Friends mocked him by putting on a sign on his front door ... Read More


2010 Drama Queen Day


We kicked off the '10s with yet another holiday celebration that mock drama queens. *Make a strong stand* against their behaviors ... Read More


Mayoral Run in Johnson Village

Steve has taken the next step in leadership in his community by announcing his mayoral candidacy for Johnson Village, the small hamlet along the highway in Chaffee County ... Read More


Steve's First Tweet In Church!


Another benchmark of Twitter greatness was achieved when Steve twittered for the first time ... during his church service. He snapped a photo with his cell phone of ... Read More


Twitter Queen Award


Steve was honored as a high achievement participant of Twitter.com when he was named a "Twitter Queen" among friends and peers. He received a beautiful 8x11 sheet of paper to commemorate ... Read More


Hot Dog Candle Christmas Gift

Steve best Christmas gift for the year was a candle shaped like a plate of two hot dogs with potato chips ... Full Coverage


Old Boots Finally Replaced

The old boots have finally been banished! After a very muddy hike, Steve's faithful boots with holes were finally replaced with the same exact brand and make ... Full Coverage

Early Text Messages To West Coast Friends

Talk about inappropriate! Steve has continued to forget the time zone difference while on the east coast, sending "insanely early" text messages to Californians ... Read More

Celebration: 50 Dunkin Donuts Visits

Steve celebrated his major feat of making 50 Dunkin Donuts visits during his extended trip to the Northeast. "I want the world to know I'm a Dunkin Donuts man and I'm darned proud!" ... Read More


((((( DONATIONS APPRECIATED TO KEEP THIS WEBSITE RUNNING )))))
Learn how to give here. Thanks! :-)
| | |
| --- | --- |
| I am addicted to this mini-golf game. My friend Mike in Gardner, Kansas has the all-time best low score of 21. Can you beat him? :) Play Mini-Golf. | BUENA VISTA, COLORADO - We've gotten a lot of snowfall in the past two weeks, and I'm compiled photos and videos of snow and mountains. |
Happy Colorado Snow! :D

BUENA VISTA, COLORADO - Over the three days we received a lot of snowfall. On Saturday, I snapped a number of snow scenery photos around town.

Throughout November, I've accumulated many "extras" of mountains and scenery around Salida. Enjoy! :)
| | |
| --- | --- |
| PONCHA SPRINGS, COLORADO - From Poncha Springs, it's 7.5 miles and a 1500' elevation gain with sizeable shoulder. I recommend biking Poncha Pass. | NATHROP, COLORADO - I hiked the two-mile Narrow Gauge Trail in Chalk Creek Canyon in Chaffee County. This is an easy hike with wonderful mountain views. |
Mount Harvard 14420'

BUENA VISTA, COLORADO - Last year, my best hike was with Tom when we reached the summit of Mount Harvard, a 14er in the Sawatch Range. The standard route is longer and tougher, but we made it. :)

Boulder Mountain 13524'

NATHROP, COLORADO - A lesser-known 13er (Boulder Mountain) that Sam Palpant and I hiked. This mountain is accessed from the Baldwin Gulch 4WD Road near Mount Antero.
| | |
| --- | --- |
| | On a long drive from Colorado Springs to Fruita, I snapped photos and made videos of the mountain scenery along Interstate 70. |
---
If you love Colorado, you're in the right place!
Welcome to Colorado Guy! Enjoy my photo galleries. Read a stupid article about my life. Watch a video. Or listen to my kick ass music. It's all about fun in here... and maybe inspiration now and then.
About Me - I'm a licensed professional counselor by day, and a photographer, mountain climber, road cyclist, adventurer and Colorado poster child the rest of the time. I've biked across America twice, the latest in 2011, and my latest project is finishing my book about my first ride in 2008. I've lived in Colorado Springs, Manitou Springs, Buena Vista, Fruita and most recently Salida.
Keep in touch! Follow the insanity on Twitter. Let's connect on Facebook. I'm a big fan of Pinterest. I've uploaded over 800 videos on my YouTube page.
-Steve